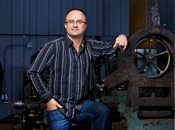 06 Mar

Kaymor is Growing with the Times

A LOOK INTO KAYMOR'S GROWING SUCCESS It's hard to believe that during the 2008 recession, Kaymor almost didn't survive. "It was about as close as you can get before you give up. But I wasn't ready to give up" Excerpt from Robert Stegmeier in Profits Magazine.
Growth
Not only did Kaymor survive the recession but it has grown. Since 2008 Kaymor has almost doubled the employees. With over 40 employees, from journeymen welders to journeymen heavy duty mechanics to journeymen machinists to millwrights, Kaymor is ready to take on any challenge. From custom machining to plant maintenance, from drilling rig certification to portable welding, the list goes on.
According to the Alberta Oil and Gas Industry, "over the next 25 years, oil and gas development in Alberta has the potential to add $2.5 trillion in new economic activity, and millions of person-years in jobs."  With this in mind, Kaymor has added a third partner, a journeymen heavy duty mechanic. This has allowed the company to branch out into other services, such as mechanical and industrial plant maintenance.
Not only does Kaymor have operations in Grande Prairie but also the Leduc/Nisku area. Shop hours  have been customized to suit client demands and increase productivity. The new shop hours are 7:00AM to 7:00PM, 7 days a week, including 24 hour on call service. By increasing technology, equipment, workforce, and areas of operation, Kaymor will only continue to grow, to meet the demands of the industry.