12 Jan

Kaymor Client Focus – Northstar

Kaymor has just received the best Christmas and New Year gift—a great client feedback! Our team has recently done work for Northstar Energy on their power line towers bases situated in Manitoba.

We are honored to receive the following heartwarming feedback from Northstar's Equipment Designer, Dusty Erker:
"What an excellent asset Kaymor has been for Northstar this year.
That straight time shift work over the weekends is extremely helpful when go-aheads frequently sail in on Friday afternoons for us. Josh has been exceptional doing his best to fit our needs in when he can. His experience gives us accurate estimates and timelines and if something goes wrong we get a phone call before we get a surprise. Also although I work with Chad less often it really comes in handy when he has some of the custom repair work on file. Today I was able to pick out the part I needed in 30 seconds and sent it away to be re-cut a year later after Kaymor finished with a project I wasn't initially involved in. Also staying open to 7pm allows us to get things over when they come in late or have fallen behind some.
Just Awesome."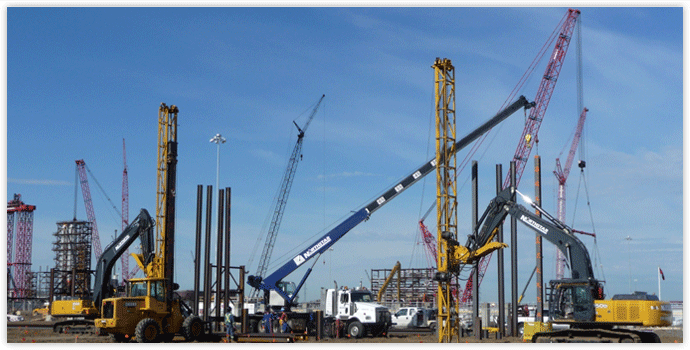 Northstar specializes in pile driving, screw piles or helical piles (both fabrication & installation), and bridge construction (permanent & temporary along with sales). Northstar's Exca-Driver 1200, enables them to drive piles up to 24 inches and in 40ft lengths. This same machine can also switch to installing helical piles in under 30 minutes, or operate as fully functional excavator. We also operate the larger Exca-Driver 1800 that's capable of driving piles up to 30″ and in 60ft lengths.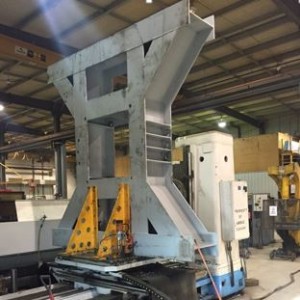 Kaymor's team have machined holes on the Boring Mill for a power line tower base that is heading to Manitoba. We did 16 different sized ones, this being the largest.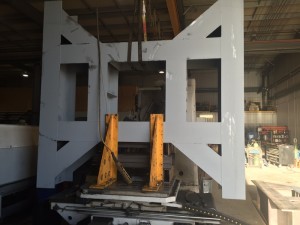 In the picture below, Steve is setting up a base for drilling on our Boring Mill. Kaymor's full line of machining services in Grande Prairie can be accessed here. Basically the frames we did get cemented in the ground with anchor bolts and the large metal power line poles get bolted to them.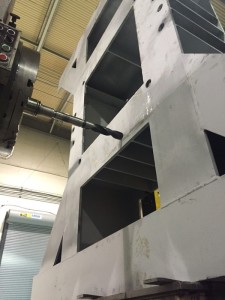 It has been a pleasure working with such an amazing client as Northstar!