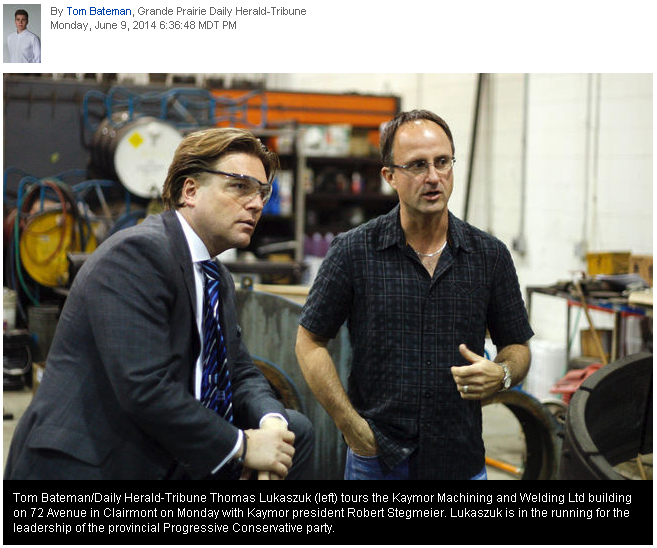 10 Jun

Thomas Lukaszuk Visits Kaymor

Thomas Lukaszuk's visit to Kaymor was insightful, informative, and well, just down right awesome!

President of Kaymor, Robert Stegmeier, hopes his meeting with Mr. Lukaszuk will start the ball rolling to find innovative ways to bring skilled trades to Alberta and keep them here. "Growth is on an uphill climb but without more skill trades workers coming in, I believe that growth will be diminished".

The shortage of skilled trades and workers in northern Alberta is a major concern to many business owners, as well as Mr. Lukaszuk's, "I will be spending a lot of time in northern Alberta and in Grande Prairie, it's an area that's growing a lot; it's feeling a lot of growth pressures, not only from services, housing, shortage of workers, the list goes on and on. This is the economic engine of the province." www.dailyheraldtribune.com/2014/06/09/lukaszuk-in-this-to-win

Wages are not bringing the people here to stay, the Canadian average for a journeymen machinist is $23.63 whereas in Alberta the average wage is $30.62, a journeymen machinist can earn upwards to $40.00+. www.payscale.com/research/CA/Certification=Journeyman_Machinist/Hourly_Rate

So what will bring skill trades workers to Alberta to stay? Mr. Lukaszuk believes it's quality of life, "things such as adding recreation, education, and health-care facilities are important factors in keeping people in the area for the long term."

So Canada, what do you think? With a million people unemployed in the east, why are they not moving to Alberta?