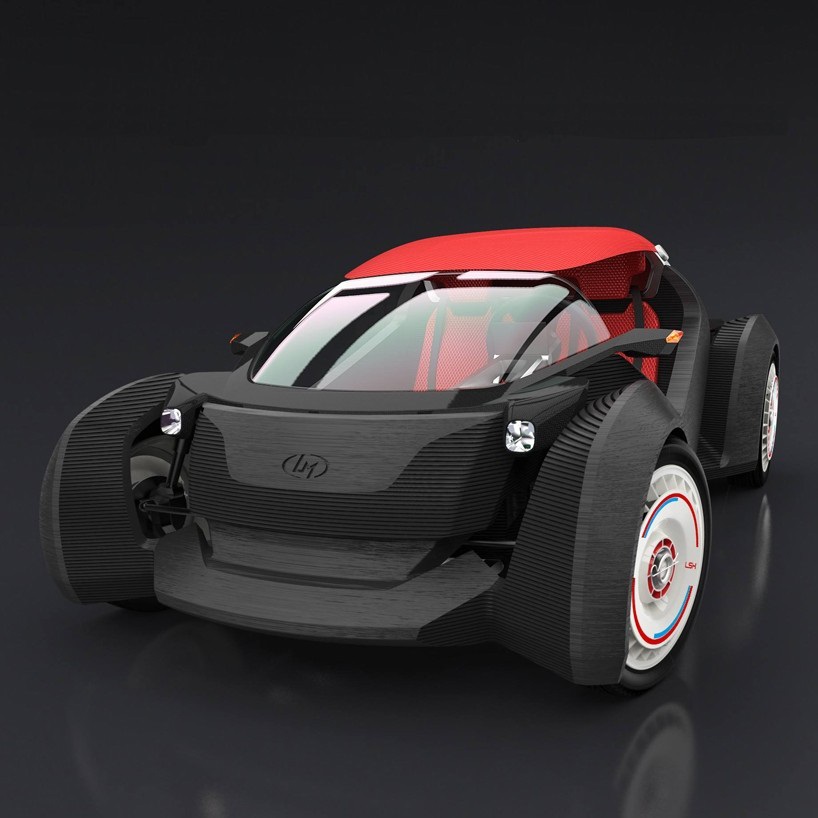 22 Sep

3D Printed Electric Car
Five days, that's all it took from start to finish for the first 3D printed electric car to be produced.  The companies behind the car, AMT-Association for Manufacturing Technology, Local Motors, Oak Ridge National Laboratory and Cincinnati Inc, showcased the manufacturing, assembly and finally on the last day drove the car out of the IMTS show in Chicago.
Local Motors held a design competition for the car.  The Strati, meaning layers in Italian, by Michele Anoe was the winning design out of some 200+ entries.
Production partner, Oak Ridge National Laboratory, found Cincinnati Inc who supplied a 3D printer that had the capacity to build the large parts.  The big area additive printer, better known as BAAM, has a deposition rate of 40lb per hour.
Using a carbon-fiber reinforced thermoplastic, same plastic as Lego, or ABS  the structural chassis, seats, body interior etc, were all 3D printed. The body alone took 212 layers of the carbon-fiber thermoplastic.  Total printing time took 44 hours.  Milling took another day.  A 3D printer using the direct metal process was use for the wheels and hubcaps.
The drive train, battery, tires, electric motor rand windshield were either made using conventional manufacturing or came from a Renault Twizy electric car.
It's hard to believe that this car is comprised of only 40 to 50 parts, whereas a regular car has some 20,000.
The 3D car can go between 40 mph and can travel up to 120-150 miles on a single charge.
Local Motors engineer, James Earle, told USA Today,"One of the surprises is there is no sound from the frame because it's all one piece of carbon fiber."  He went on, stating  "We made the first in May and drove it in June.  It drove marvelously, much better than I expect.
Local Motors hopes to produce 3D printed cars retailing between $18,000.00 and 34,000.00 with the option for customized features.  CEO and Co-founder of Local Motors, Jay Roger told Mashable, "It will be positioned like a car for the masses, or many different cars for the masses."
On Saturday, September 13, the Strati, was driven out of the Mccormick building by Jay Roger and Douglas Wood, president AMT.