26 Nov

Kaymor Maintains Forestry Sawmills

It is well known sawmills are indispensable structures in the forestry industry as they are the facilities in which raw timber is processed into dimensional lumber, the form suited for shipping and sale. This process entitles several detailed steps that require keeping all related machinery and heavy equipment maintained and in best shape to produce high quality results. We are proud to support the forestry, logging, pulp, and planer industry by maintaining and servicing all machinery and heavy equipment related to sawmills.

Sawmills contain a wide array of machinery and heavy equipment such as saws, blades, engines, hubs, shafts, rollers, cutting teeth, bearings, and conveyor belts, where several maintenance issues may arise. Kaymor's specialized team is well equipped to arrive on location or receive the equipment in need of repair in the shop and work on them proficiently. The jobs may require welding, machining, fabrication, or, in some cases, computer designing and building from scratch a new, more efficient part.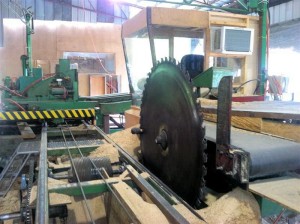 An example of the issues that can arise in sawmills is the breakdown of one of the components attached to the head saw or primary rig, such as the bearings or shafts. We can examine the entire mechanical structure and fix the origin of the problem. Even in a seemingly normally functioning sawmill assembly, regular maintenance is highly recommended due to the wear and tear effect of all those logs continually running through. The fine process of producing equally sized and excellently finished products calls for top notch servicing and maintenance.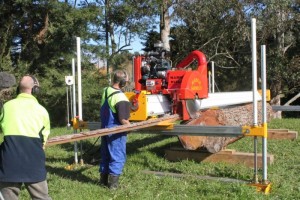 Kaymor machining and welding shop is able to save you effort and down time by handling all matters related to your sawmill's mechanical moving parts, assembly line pieces, parts in a machine or unit, and all kinds of bearings, by welding, machining, replacement, fabrication, or designing totally new structures for a more efficient work flow. Whatever your sawmill structure is—part of a larger logging facility or company, individual usage for building cabins and DIY projects, or portable and rent sawmills, you need it to undergo periodical maintenance and repair to keep it in best shape and eliminate break time.

Kaymor is your go to machine, welding and repair shop in Grande Prairie for all your sawmill, forestry, logging, pulp, and planer machinery and heavy equipment needs. We are proud to already be supporting a number of large providers in the industry in Grande Prairie, such as Weyerhaeuser, by offering superb service and customer care.
Call us at 780-538-2623 or click here if you have any questions and to book your service.
Feature image source.