09 Mar

Portable On-Location Welding Services Grande Prairie

Kaymor is not only a full service machine and welding shop, but also a very portable one at that. A host of CWB certified and B Pressure ticketed welders are ready to serve the Grande Prairie area in well-equipped welding trucks. We work in construction, forestry, oil and gas, agriculture, transport, and mining. From conception to design to installation Kaymor's portable welders are there to get the job done 24/7/365.
One of our B Pressure Certified Portable Welders is working on a well abandonment. In this process, the oil company first cements the casing to plug it off, then, the welder, will cut the casing and weld a cap on the top. It gets cut about 6 feet below ground level. Finally, the cap gets a well identification number welded on and covered over with dirt.
In the image above a Kaymor Portable Welder is welding ice lugs on the track of a D8 Cat. This will allow the tracks to have more traction during icy conditions. Regular maintenance and service to these tracks is an important safety measurement that can also save you time and energy.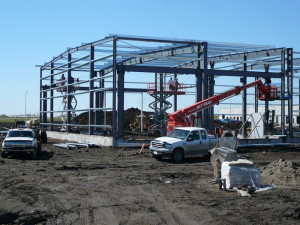 In this image, a Kaymor CWB Certified Welder is working on a building construction site. Besides well abandonments, we do casing bowls, well re-entries, structural tasks, bridge repairs, equipment repairs, drilling and service rig repairs, building construction, portable line boring, and more.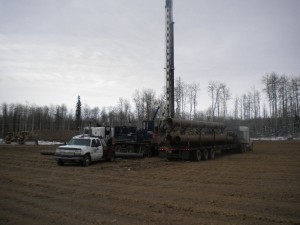 Kaymor is your one stop service, repair and manufacturing company. With our shop fabrication, machining, mechanical, and millwright services we can handle any job you may have around the clock. Browse the website to read more about our welding capabilities and company certifications.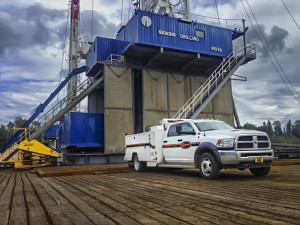 You can see a variety of Kaymor trucks in many places with the same readiness and professionalism anytime, anywhere. To place your order or ask any questions, visit our contact page or call 780-538-2623 for all your portable on-location welding services Grande Prairie.