02 Sep

Line Boring Services at Kaymor

At Kaymor our machining service department has been working on a line boring project for a scissor neck trailer. Line boring is the process in which we can repair worn out bores by welding and machining them back to manufacturers specifications or simply over size the existing hole .  Below is an image of our talented Erin Haacke from the Machining Service Department line boring the pivot bores on the trailer.

Kaymor now has a trailer rigged up and ready to provide our line boring services both in our shop and on site. Our 24 hour machining services and on location maintenance provide convenience services and save our clients time and money.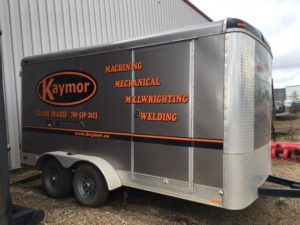 Whether it is an emergency situation or a planned maintenance please give us a call today at 780-538-2623 for all your line boring and machining needs. Our experienced professionals will be happy to help.